For any new mom out there who has stumbled upon Serena & Lily and fantasized about decorating their nursery with their bedding and one of their whimsical poufs, have I got good news for you.  I too was lured into the beauty of Serena & Lily and I'm ashamed to say I purchased my daughter's crib bedding from them. But at $450 for a small leather ottoman, otherwise known as a Moroccan Pouf, the S&L style was too extravagant even for me.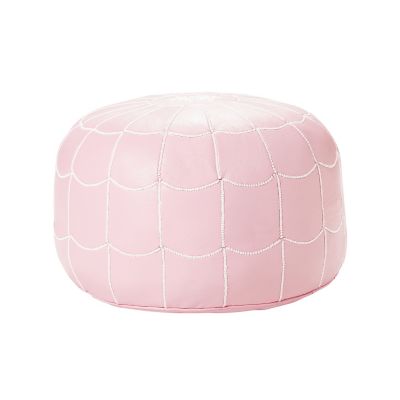 But since I started my quest for a Moroccan inspired foyer I just couldn't live without a pouf and so started my internet search for a more reasonable pouf.  Say it, "Pouf", so fun.
And here it is, Tazi. The poufs are half the price and I would wager that S&L purchases their poufs from this source. But that's only a guess.
My beautiful pouf:
And my S&L bedding? The crib bumper and dust ruffle, both of which was no longer usable after we lowered her crib the first time, is stuffed in the top of the closet while I rack my brain on how to reuse them. Damn if I'll throw them away! I plan to frame the sheets when she moves to a big girl bed.